CCTV – Choosing Cameras to Fit Need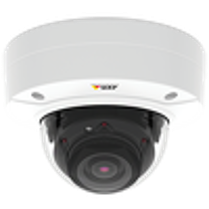 1MP, 2MP, 5MP, 4k ……. which cameras do you need for your video surveillance system?
Of course, the answer depends on the situation needs and is influenced by multiple factors.
The first is what we call the Operational Requirement. This defines the type of activity and the level at which it needs to be recorded (e.g. object/person detection, recognition, facial identification, fine details). Furthermore, the location, view-able distances, times and various conditions are defined as part of the operational requirement.
Typically, the next step is to determine the type of camera(s) to be used for the application. Choices range from fixed dome, pan/tilt/zoom (PTZ), fixed box or "bullet", license plate, modular, panoramic, thermal, and others.
The next step in camera selection is to match the density/resolution to the operational requirement. The table below provides a relative comparison of the density of several options (including the relative bandwidth/storage and cost considerations). Often the goal is to meet the operational requirement using the least expensive option – whether that be a single high res camera, multiple cameras of lower resolution, or a mix.
| | | | |
| --- | --- | --- | --- |
| Camera Resolution | Density | Bandwidth / Storage * | Camera Cost |
| 1 MP (720p) | 1.0 | 1.0 | 1.0 |
| 2 MP (1080p – HD) | 1.5 | 1.4 | 1.4 |
| 5MP | 2.4 | 3.2 | 1.8 |
| 4k (8MP) | 3.0 | 5.8 | 2.2 |
* Comparison assumes medium level of activity – all comparisons are on a relative basis.
Thus, a 4k camera will provide 3 times the image density (resolving power) as a 1 MP (720p) camera, However, the 4k camera requires about 5.8 times the bandwidth/storage and is 2.2 times the cost (camera only). At a distance of 50 feet, the 1 MP camera would be able to observe the presence of an object but would fail to fully recognize or do facial identification. A 4k camera would be able to do facial identification at this distance under normal conditions.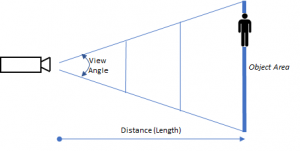 Following this, it is important to determine the lens and angle of view required. This could be fixed (with adjustable focus), varifocal with flexible adjustment of the view angle, and/or wide angle. Each of these options provide different coverage ranging from narrow corridors to four wall rooms and 180°/360° views with multiple lenses.
The last step is to ensure proper functionality such as day/night, indoor/outdoor, frame speed, infrared capability for dark conditions, dynamic range to separate dark/light backgrounds, built-in camera analytics, mounting options, etc.
TSG Process
TSG process for designing video surveillance systems encompasses understanding the above needs and using industry-based tools to layout camera locations, camera type and model selection, fields of view, representative images, and quantification of results relative to the operational requirements. This process has proven to set proper expectations for the capabilities of CCTV camera systems and allows for consideration of trade-offs in requirements, density/resolutions, system bandwidth, storage and costs.
Please contact us for more information to help with your camera and CCTV system selection.
Authored by Mike Traniello, Vice-President Customer & Solution Management